Why Executive Search
The only reason you need executive search is to help targeting and attracting the best people for you organization. A succesful and effective recruitment strategy is critical to the succes of the company. Orly is totally commited to providing our clients with an exceptional recruitment service to ensure that the right people are engaged for the excellence. We are confident to be able to delivery you the very best.

oIn today's high-pressured human capital driven economy, quickly bringing top talent can mean the difference between success and failure of the company. Executive search will help you finding talented from highly targeted search method. The more experience the consultant is better.

Orly shall give clients a 3 month guarantee of the chosen candidate starting from the day he will be joining your organization. We maintain an ongoing dialgue with both the candidate and the client, to ensure a smooth integration into the organization and at the same time, a guarantee of achievment of preformance goals.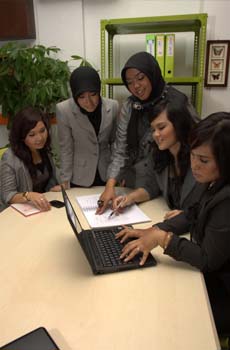 Planning
- Information gathering
- Agreeing fees &
- timescale's


Implementation
- Targeting
- Preliminary interview
- Recommended shortlist
- Client interviews
Closure
- Selecting
- Negotiations
- Offers
- Post assignment review
o We give our utmost services for executive search ranging for senior manager, Assistant vice president, vice president, general manager, and director. We also carry out recruitments in the level of junior manager. We make sure that we perform each and every assigment with excellent and just treatments.

By working together, we offer you our reliable services and we acknowledge your trust upon us. For it would only mean we shall reply the deed by doing what we have done so expertly. Coming with such experience and network in our hands, we are confident that we would only offer you the best of the best. We see a market that has not been explored yet, and into that space is where we are heading. In short, we offer first class services minus the sky-high bill. We conduct very efficient researches and make the most of our knowledge and experience to produce what you deserve, perfection.

oOur approach is impeccable and will be personalized for each of your specific needs. We only use leading edge approaches and techniques, but we also recognize that every client deserves a properly conducted search. Exceptional care is taken to consider and attract the best talent, regardless of ethnic background or gender.

Orly represents its clients and would never parade our candidate bios and CV's around. As a preliminary step in identifying potentially qualified candidates for a carefully specified leadership role in a client, we will include a search of our own candidate databases and other sources.

As the need to agreeing with clients rise, we shall set what particular off-limits for the candidate sources for a particular assignment. They would include:


Sister companies or divisions of the client.
Individuals placed by Orly in their current company (unless the client specifically requests that we can approach that candidate).
Candidates with firms or elements of firms where Orly has agreed to put them off-limits. Local offices are free to put clients off-limits for a two-year period after the completion of the assignment or its termination by the client.


As for the clients, they could be rest assured that the information disclosed to Orly during the course of an assignment will remain confidential. To ensure that


If there is a possible conflict of interest between clients or potential clients, it will be immediately disclosed to both parties.
Orly professionals will not discuss client matters in a public place nor disclose client information to third parties.
Orly will maintain the security of client papers and communications.


Other than those, clients will be having updated information as to progress on their assignment.

oA continuous update will be given to prospects and clients as how is required on the status of the search and will be informed immediately should there is any obstacle or issue that will affect Orly's delivery of the search.

We also ensure that as we represent the client's interests, we will not send out unsolicited resumes to clients, we will not offer the same candidate to two clients at the same time, and in salary negotiations, we will represent the client's best interests and be fair to the candidate.

Client's name will not be used unjustly within the client's company with other clients or candidates:


Orly will not express to other clients or potential clients or in publicity material that they are or have conducted searches for that client without the permission of the client.
Orly will not disclose the name of a client to a candidate until the client agrees this is appropriate.